HISTORY OF PRAMS
In 1877, Silver Cross founder William Wilson invented the first ever modern pram, launching a tradition of great British design and innovation that continues to this day.
We're quite rightly proud of our unique heritage, which has made Silver Cross into one of the world's best-loved nursery brands.So when one of the very first prams produced by William Wilson himself came up for auction, it was an opportunity to bring home a very special piece of Silver Cross history.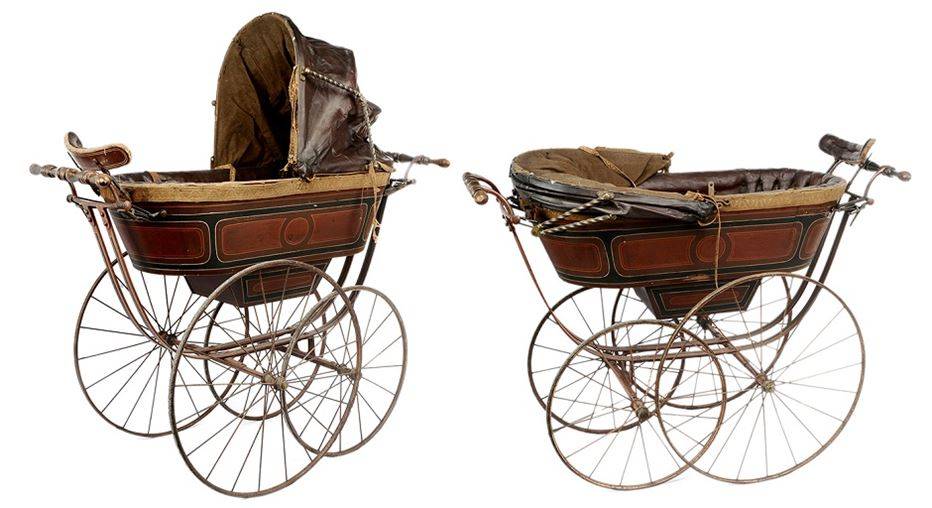 The original William Wilson Pram
Remarkably this rare pram, dating back to 1878, has survived in its original, unrestored condition. Originally owned from new by a family in Edinburgh, it was acquired by a private collector in the 1970s.
For Silver Cross CEO Nick Paxton, it was a proud moment when he successfully bid for the pram - the only one by William Wilson known to be in existence.
"We are absolutely delighted to have had the opportunity to bring the original historical pram back home. It is a reminder of revolutionary British design that changed the face of the pram industry," said Nick."I have worked with Silver Cross for a large part of my career and it is a proud, personal moment to have had the opportunity to unite a 138-year-old Silver Cross heirloom with our current product collection."


The Wilson Patent number (Photo: Vectis Auctions Ltd)
Featuring the Wilson Patent number on the chassis, the pram is rare piece of social and manufacturing history, with a wooden painted body, brown leatherette upholstery, a reversible hood and iron wheels with rubber inset types.
It has the famous "C" Spring suspension invented by William Wilson all those years ago – a feature still seen on our coach-built prams today and hand-crafted in the very same way.
William, a pioneering inventor of his time, learned his trade as a spring smith in Leeds and went on to found Silver Cross in the city's Hunslet area.
He developed and patented a new method of attaching a pram carriage body to a chassis using a "C" spring - so-called because of the shape. The spring was attached with a leather strap, resulting in the bouncing suspension for which Silver Cross prams are renowned to this day.

Silver Cross founder William Wilson
In an era when the terrain was mainly cobbled, William's prams were seen as a radical development in baby comfort, providing a more balanced and comfortable ride.
When William died in 1913, the business passed to his three sons, who formed the Silver Cross Company. It continued to use the Wilson name for its luxury prams until the early 1970s, when all products carried the iconic Silver Cross name.
"When we heard the pram was in the auction, we did everything we could to bring her back home," added Nick."Our heritage is considered very carefully in every product we create, so having one of the original models was a very special moment for the whole team. This early model embodies everything that is special about Silver Cross and is an everyday reminder of the Silver Cross journey since 1877."